Field Museum management refuses to voluntarily recognize the union and organizes the Labor Board vote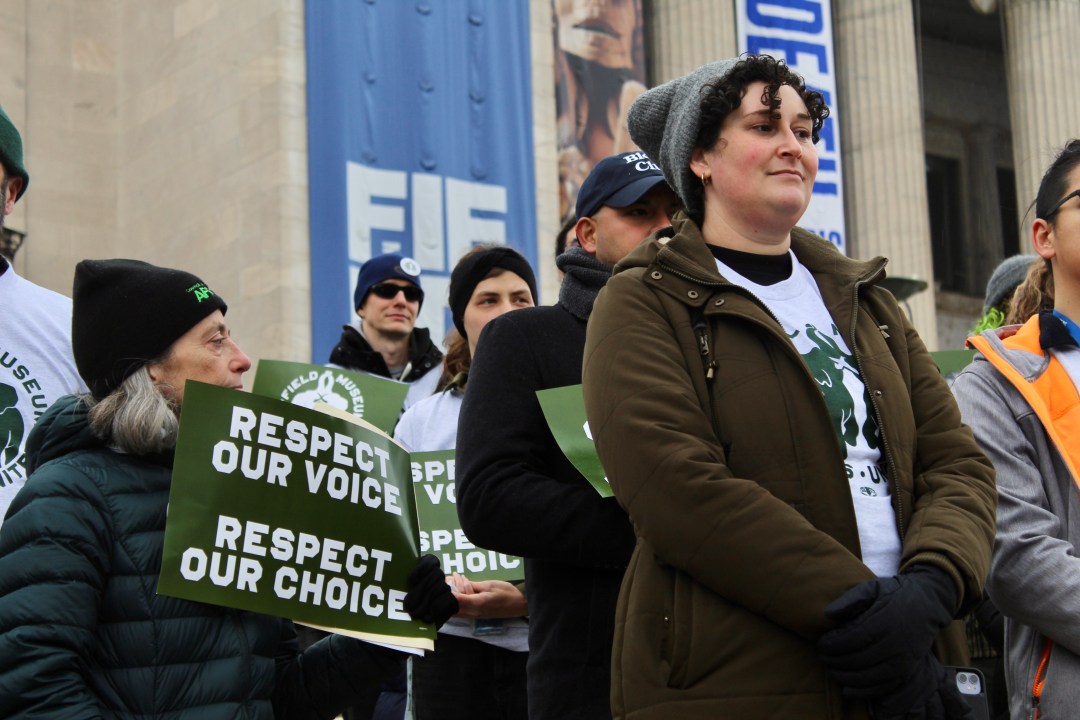 DOWNTOWN — Field Museum leaders will not voluntarily recognize Field Museum Workers United as the official union for employees, pushing the issue to a vote through the National Labor Relations Board.
Museum staff delivered a letter to the museum's president and CEO, Julian Siggers, on Tuesday. The letter gave Siggers a Monday deadline to sign the agreement recognizing the union and the American Federation of State, County and Municipal Employees Council 13 as the workers' union representatives.
AFSCME Council 13 is the largest trade union for cultural workers in the country.
"Working directly with employees, we have achieved a lot, including salary increases, inflation-linked payments and investments in DEAI initiatives, even as we battle the pandemic. We want to include all colleagues — all voices — in a decision on unionization," a museum spokesperson said in a statement. "Every eligible employee should have the opportunity to participate in an election, and therefore we refuse to voluntarily recognize the union."
More than half of Field Museum workers have signed union permission cards, organizers have previously said, as they push to formally unionize and bargain for better wages and benefits.
At a press conference on Tuesday, workers raised concerns about the museum administration's alleged "union busting" tactics to dissuade staff from organizing and signing union permission cards.
Those concerns persist with the refusal to voluntarily recognize Field Museum Workers United, organizers said.
"We are disappointed but not surprised that management has refused to acknowledge our colleagues' majority support for our union, Field Museum Workers United. Management has also refused to back down from its anti-union campaign that wastes time and money by interfering with our right to unionize," a Field Museum Workers United spokesperson said in a statement.
Some of these "union busting" tactics include management "hiring an anti-union law firm", "telling staff they are not union eligible" and "holding necessary staff meetings to discourage union participation", the workers had previously said.
"We form our union because we love the Field Museum, because our work makes the Museum exist, and because we deserve an equal voice in decisions that affect us. We will continue to talk to every co-worker, further strengthen our majority, and prepare to file for and win our union elections despite management's resistance to fairly shared power," a Field Museum spokesperson continued. Workers United.
A majority vote in favor of the union will certify the group, said Anders Lindall, director of public affairs for AFSCME Council 31.
Listen to "It's Alright: A Block Club Chicago Podcast":