Illinois' post-Roe vs. Wade future, state erected 'force field' in anticipation | Chicago News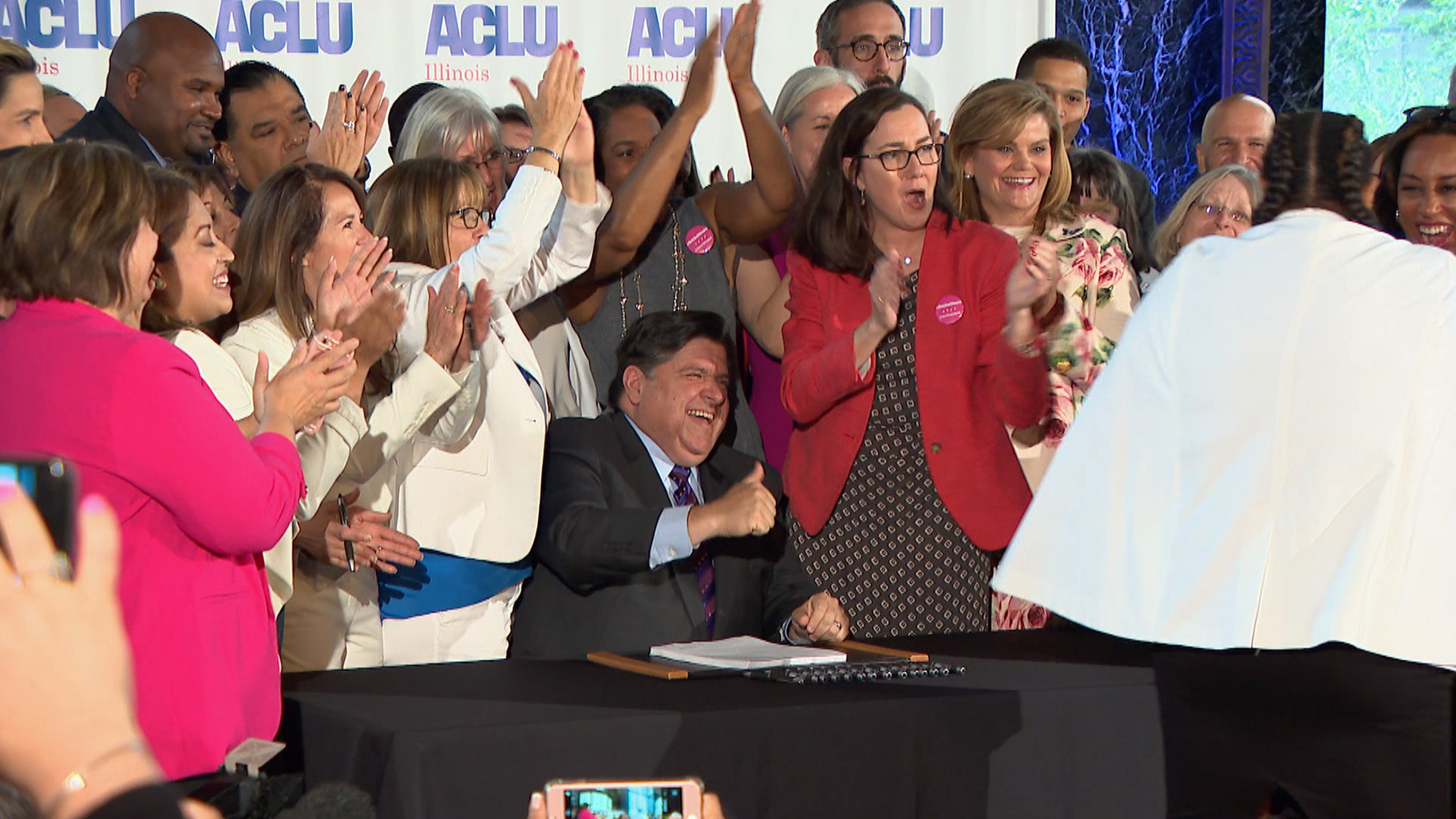 The United States Supreme Court is preparing to overturn Roe v. Wade, the ruling in effect since the early 1970s that protects the right to abortion.
The draft opinion was leaked to Politico and upheld by the Chief Justice as genuine calls for the "grossly flawed" Roe decision and would refer "the issue of abortion to the elected representatives of the people" – that is. say to Congress and the States.
Abortion rights activists and Democrats who control the government of Illinois had anticipated this day and enacted measures in preparation.
"No matter what atrocious opinion the Supreme Court officially issues this summer regarding Roe v. Wade, abortion is safe and legal in Illinois," Governor JB Pritzker said.
Among the measures Pritzker says Illinois had the foresight to adopt was one he enshrined in law early in his term.
While 13 states have trigger laws that would automatically ban abortions upon Roe's annulment, Illinois' law does the opposite.
The Reproductive Health Act 2019 enshrines in law the right of individuals to make autonomous decisions about their reproductive health, including birth control and abortions.
About six months ago, Pritzker repealed a law that required parents of minors to be notified before they could have an abortion.
"Illinois continues to show the nation what female empowerment looks like so we can parent at our own pace if and when we choose to," said State Rep. Sonya Harper, D-Chicago. . "We have made birth control available over the counter in our pharmacies. We are installing pads and tampons in all of our community colleges and universities. We have privacy protections in place for our most vulnerable young people facing some of the toughest decisions in our lives.
Reinstating the parental notification requirement is among the steps state Rep. Adam Niemerg, who represents a rural area in southeastern Illinois, wants to take.
Niemerg said he would work to repeal the Illinois Reproductive Health Act and ban abortions outright.
"In Illinois it would be a very difficult process and that's something people here in Illinois have to understand. That until the legislature is solidly Republican, that until the office of the governor is solidly Republican, these pro-choice measures will remain in place," he said. "And I believe that over time we can eliminate the sweeping abortion legislation that was passed over the past two years, and I think the people of Illinois understand and are okay with that."
Measures restricting abortions have stalled in Illinois in recent years, such as the one (HB3049) that Niemerg is sponsoring, which would require ultrasounds to be offered to anyone seeking an abortion, eight weeks into pregnancy and at -of the.
"There is a statistical analysis that says that 80% of women who see their child, show the ultrasound, decide about life, decide to choose life. Because they see that child develop and they understand that 'this is a human being, that this child has to be given this chance to live. So once they have had the opportunity to see the ultrasound, it can change hearts and minds when it comes to deciding whether or not they decide to have an abortion, whether or not they decide to have the child.
Niemerg said the Supreme Court's early ruling should be a call to action for voters, and while change won't happen overnight in Illinois, he and other advocates are here to help. the long term.
Democrats are also galvanizing their constituents, with Pritzker at a Tuesday press conference saying there is no "assurance that Illinois will always be a pro-choice state."
"If the wrong people get elected, if people who are against women's rights get elected, if the legislature becomes Republican or the governorship becomes Republican, we will end up being an anti-choice state," Pritzker said.
Congress could also pass a nationwide abortion ban, although currently there are not enough votes.
Abortion is not strictly a partisan issue; a handful of Democrats voted against repealing the parental notification law, and Pritzker's predecessor, Republican Gov. Bruce Rauner, signed legislation (Public Law 100-0548) that expanded access to abortions by requiring public health insurance and Medicaid to cover them. A group of Democratic lawmakers gathered on Tuesday to denounce the Supreme Court's vote and pledge to do more to protect and increase access to abortion.
"We've seen the warnings, here in Illinois, we've done a lot of work," said state Rep. Kelly Cassidy, D-Chicago. "Our responsibility – and I challenge each of you to be as creative as possible – is to think about what else our force field needs. What else women and pregnant women coming from do other states that restrict abortion need when they come to us?We have a bill (HB1464) in the Senate to protect healthcare workers from undesirable actions from other states. looking for ways to ensure parents in Alabama or Texas who want to access gender-affirming care for their trans child know they are welcome here?"
Democrats say the next steps are to ensure Illinois will be a haven for those in neighboring states like Kentucky and Missouri, where abortions will be banned after Roe.
"We have a responsibility to locally coordinate lifesaving support that includes abortion funds, transportation, and radical hospitality for anyone living and traveling in Illinois who needs access to safe abortion," said said Sen. Cristina Pacione-Zayas, D-Chicago.
While other states have recently blocked access to abortions, Illinois has already seen an increase in the number of people coming here for the procedure.
Follow Amanda Vinicky on Twitter: @amandavinicky
---