Judge Síofra O'Leary leads the elections for the presidency of the European Court of Human Rights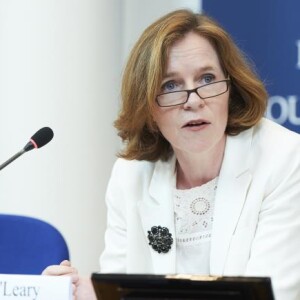 Judge Síofra O'Leary, an Irish judge at the European Court of Human Rights (ECHR), has been named as the favorite in the election for the presidency of the court.
Human rights activists and legal experts speaking to Irish legal news warmly welcomed the potential appointment of the Dublin-born judge to this prominent role as a boost to the court as well as Ireland's international reputation.
The appointment of Judge O'Leary would be "undoubtedly the highest achievement of any Irish judge in a European-level court", said Bill Shipsey, a retired barrister and former chairman of Amnesty International Ireland.
Mr Shipsey added: 'It reflects the deserved high regard in which Judge O'Leary is held. Not only would she be the tribunal's first Irish president in the 63 years since the tribunal was established in 1959, but also its first female president.
"It would be a monumental and substantial boost to Ireland's international legal and judicial reputation."
Michael O'Boyle, barrister and Deputy Registrar of the European Court of Human Rights from 2006 to 2015, described Justice O'Leary as "a highly regarded judge who is a barrister" and who would make "an excellent president".
If successful in the election this autumn – and he thinks it's 'a pretty safe bet' – then his nomination will 'provide a big headline' for an Irish government keen to promote Ireland internationally as a player prominent legal system, he said.
He stressed that the role would see Justice O'Leary receive international guests, including heads of state, justice ministers and chief justices, as well as travel across the continent. "She would become a leading legal personality in the European constellation and a very important figure," he added.
The court's next president will take the reins as the court, fresh from the pandemic, deals with the fallout from Russia's invasion of Ukraine, which led to Russia's departure from the Council of Europe and of the European convention of human rightsas well as the potential withdrawal of the United Kingdom.
It also faces a large backlog, with more than 70,000 cases pending, and there continue to be disagreements over how outstanding complaints against Russia should be handled following its international isolation.
"It will be a huge problem to deal with," Mr O'Boyle said. "It's a court that has its back against the wall all the time."
A graduate of University College Dublin and holding a doctorate from the European University Institute in Florence, Justice O'Leary spent years teaching EU law at several universities before her appointment as a judge in the ECHR in 2015.
She was appointed vice president of the tribunal in January 2022.